Management of Hyperbilirubinemia in the Newborn Infant
Hyperbilirubinemia is a common condition in newborn infants, and its management is crucial to prevent severe complications such as kernicterus. The American Academy of Pediatrics (AAP) has published guidelines for the management and prevention of hyperbilirubinemia in newborn infants ≥35 weeks' gestation. Infants with risk factors for hyperbilirubinemia require closer monitoring than infants without risk factors. Determining the presence of these risk factors requires examining the infant, assessing laboratory data, and obtaining a family history of blood disorders or neonatal jaundice. Phototherapy is an effective treatment for hyperbilirubinemia, but the number needed to treat varies widely depending on sex, gestational age, and other factors.
About the Speaker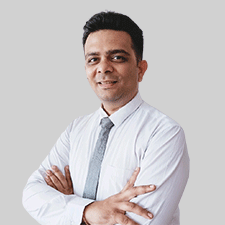 Dr. Vishal Parmar
Consultant Critical Care , Apollo Hospitals, Mumbai
Dr. Vishal Parmar is a trained Pediatrician with extensive experience in General Pediatrics in NewBorn care & adolescent health.