Principles of Nutritional Counseling
The aim of nutrition counseling is to support dietary improvements that a person wants to make and keep up. A change in diet may be required for an individual with a mental disorder to encourage healthy eating, adopt a therapeutic diet, or prevent nutrient-drug interactions. Treatment for those with eating problems or drug dependence always includes nutrition counseling. One must adhere to a tyramine-controlled diet when taking some medications, such as monoamine oxidase inhibitors, which are used to treat depression and anxiety disorders. People who take medications used to treat mental problems may also benefit from dietary advice because many of these medications can lead to weight gain or loss.
About the Speaker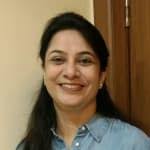 Dr. Hema Gandhi​
Nutritionist & Lifestyle Counsellor, Kolkata.