Delineating Abnormalities of Oocyte in Female Infertility
The ovaries are filled with follicles. Follicles are fluid-filled structures in which the oocyte grows to maturity . At birth, the normal female ovary contains about 1-2 million/oocytes. A small proportion of infertile women experience repeated oocyte maturation abnormalities. Come and participate in this great session with Dr. Abdelmonem A. Hegazy who will give a deep dive understanding about the Evaluation and Management of Abnormalities of Oocytes in Female Infertility.
About the Speaker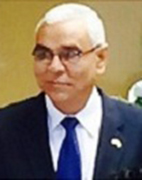 DR. ABDELMONEM AWAD M. HEGAZY
Professor of Embryology at MUST, Faculty of Medicine, Zagazig University,Surgeon & Consultant Obg & Gyn, Egypt.