Ventilator Basics: Key concepts
A ventilator is a medical device used to support or replace a person's breathing when they are unable to do so effectively on their own. Ventilators deliver a mixture of oxygen and air to the patient's lungs, either through a tube inserted into the windpipe or through a mask placed over the nose and mouth. The key concept behind ventilators is mechanical ventilation, which involves the use of positive pressure to push air into the lungs and facilitate the exchange of oxygen and carbon dioxide. Ventilators have various modes of operation, including volume-controlled ventilation, pressure-controlled ventilation, and pressure-support ventilation, among others. Volume-controlled ventilation delivers a set volume of air with each breath, while pressure-controlled ventilation delivers air at a set pressure. Positive end-expiratory pressure (PEEP) is a crucial concept in ventilator use, as it helps maintain lung recruitment and prevent collapse of the alveoli during exhalation. Ventilators also have adjustable parameters such as respiratory rate, tidal volume, inspiratory time, and FiO2 (fraction of inspired oxygen) to meet the patient's specific needs. Ventilators can provide both invasive ventilation, where a tube is inserted into the airway, and non-invasive ventilation, which is delivered through a mask or nasal interface.
About the Speaker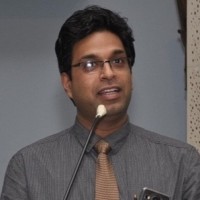 Dr. Ankur Gupta
Consultant Intensivist, Head of Emergency & Intensive Care , Apollo Hospitals, Indore.