Pulmonary Hypertension: A Case-Based Approach
Pulmonary hypertension is a progressive and debilitating condition characterized by elevated blood pressure in the pulmonary arteries, leading to impaired functioning of the heart and lungs. This case-based approach focuses on individual patient scenarios to understand the diverse causes, clinical presentations, and management strategies for pulmonary hypertension. Diagnostic tools such as echocardiography, right heart catheterization, and pulmonary function tests play crucial roles in establishing the diagnosis and determining the severity of pulmonary hypertension. Regular follow-up and monitoring of patients are essential to evaluate treatment response, adjust therapy if needed, and address potential complications associated with pulmonary hypertension. Supportive care, including exercise training, supplemental oxygen, and psychological support, plays a crucial role in improving quality of life for patients with pulmonary hypertension. Case discussions also focus on the multidisciplinary approach involving pulmonologists, cardiologists, rheumatologists, obstetricians, and other specialists to provide comprehensive care for patients with pulmonary hypertension. Treatment approaches for pulmonary hypertension include vasodilator therapy, diuretics, anticoagulation, and in advanced cases, lung transplantation. Case-based management involves tailoring treatment to the specific underlying cause, assessing disease severity, and considering individual patient factors such as age, comorbidities, and response to therapy. Research and advancements in the understanding of pulmonary hypertension have led to the development of targeted therapies, such as endothelin receptor antagonists, phosphodiesterase-5 inhibitors, and prostacyclin analogs, offering new treatment options.
About the Speaker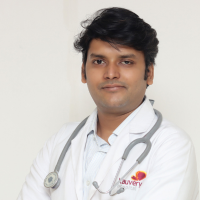 Dr MV Ramachandra
Consultant Pulmonologist Kauvery Hospitals.