Primary Adrenal Insufficiency : A Case Study & Review of Literature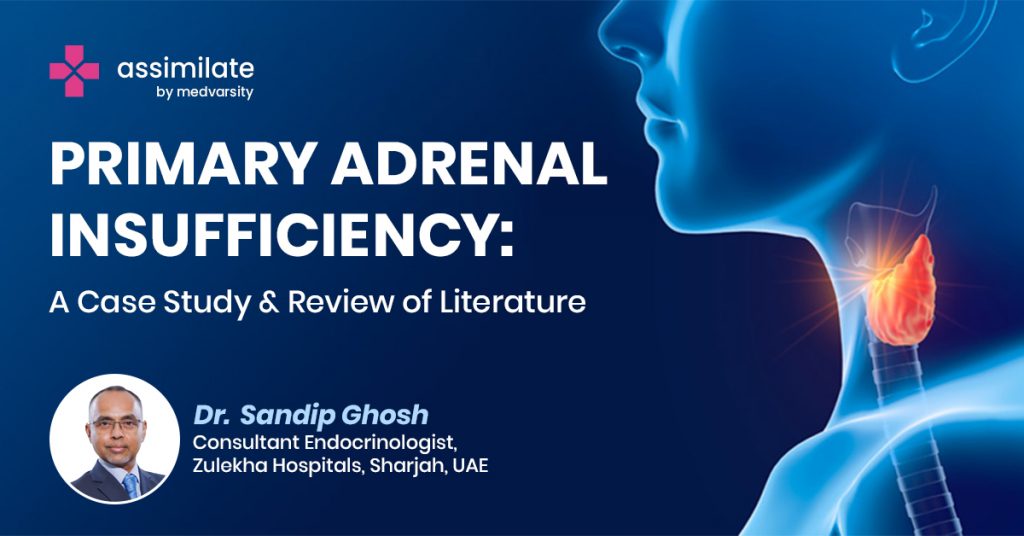 Autoimmune Addison disease affects the function of the adrenal glands, which are small hormone-producing glands located on top of each kidney. It is classified as an autoimmune disorder because it results from a malfunctioning immune system that attacks the adrenal glands. As a result, the production of several hormones is disrupted, which affects many body systems. The signs and symptoms of autoimmune Addison disease can begin at any time, although they most commonly begin between ages 30 and 50. Common features of this condition include extreme tiredness (fatigue), nausea, decreased appetite, and weight loss. In addition, many affected individuals have low blood pressure (hypotension), which can lead to dizziness when standing up quickly; muscle cramps; and a craving for salty foods. A characteristic feature of autoimmune Addison disease is abnormally dark areas of skin (hyperpigmentation), especially in regions that experience a lot of friction, such as the armpits, elbows, knuckles, and palm creases. The lips and the inside lining of the mouth can also be unusually dark. Because of an imbalance of hormones involved in development of sexual characteristics, women with this condition may lose their underarm and pubic hair.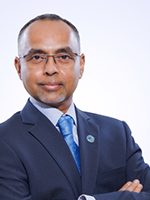 Consultant Endocrinologist,
Zulekha Hospitals, Sharjah, UAE
Dr. Sandip Ghosh  completed MBBS from Calcutta Medical College and  completed his MD from the MKCG Medical College in Berhampur, Orissa. Additionally , he also  completed his MRCP from Royal College of Physicians UK, CCT in Endocrinology and Diabetes and General (Internal) Medicine, PMETB UK, PGCERT in education for Healthcare Professionals from the University of Birmingham. He has been recognized as an eminent expert in diabetes and I was associated with Joint British Diabetes Societies of UK ( JBDS) and NGSP USA to develop guidelines and policies in Endocrinology.He  have been a consultant endocrinologist for more than 15 years and have been undertaking medico-legal review for medical negligence cases.
He was  also involved in teaching and training medical students and junior doctors in Internal Medicine and I am a regular examiner for the Royal College of Physicians UK for MRCP examinations. Also , actively associated with diabetes research and was a member of the Diabetes Translational Research Group, University Hospital Birmingham. He has authored over 50 publications in medical Journals. He achieved many accomplishments such as UK, Quality in Care award for project on variable rate iv insulin infusion. Best UK national project award at Association of British Clinical Diabetologists Conference, Glasgow. UK Diabetes Healthcare Professional of the Year award, Quality in Care Programme. UK QiC Diabetes 2017 award for 'Identifying Quality Indicator of DKA. He has delivered talks on Diabetes and Quality improvement at Coventry,RCP London Quincentennial lecture on Quality Improvement project,  UK Health show, London Olympia. Diabetes UK recognised our patient safety programme, "Diabetes Back to the Floor," as a model national practice and chose it to be featured in the "Shared Practice Library " section of the Diabetes UK website.  He has his expertise in Obesity, NAFLD, metabolic disorders, lipid disorders, Thyroid gland disorders, Endocrine hypertension, resistant hypertension, Reproductive endocrinology, Male hypogonadism ,Endocrine conditions in pregnancy etc. He is an honorary member of numerous professional organizations, including Royal College of Physicians Quality Improvement (RCPQI), London, Society for Endocrinology, UK. Diabetes UK. Advance Higher Education UK. NGSP Clinical Advisory Committee, USA. Moreover , he is interested in Research and quality improvement and various publications in Endocrinology and Internal Medicine.