Managing Pericardial Effusion
Managing pericardial effusion, a condition characterized by the accumulation of fluid around the heart within the pericardial sac, is a multi-faceted approach that aims to alleviate symptoms, identify the underlying cause, and prevent complications. The initial goal is to provide relief from symptoms such as chest pain, shortness of breath, and palpitations. This may involve pain management and measures to reduce fluid accumulation. Comprehensive diagnostic tests, including echocardiography and imaging, help determine the cause, size, and severity of the effusion. Pericardial effusion can be secondary to various conditions, such as infections, inflammatory diseases, or malignancies. Identifying and treating the underlying cause is crucial. If the effusion is small and not causing significant symptoms or compromising cardiac function, a watch-and-wait approach may be employed. Nonsteroidal anti-inflammatory drugs (NSAIDs) or colchicine can be used to reduce inflammation. For patients with recurrent effusions, other interventions, such as pericardial sclerosis or pericardiectomy, may be considered to prevent fluid accumulation.
About the Speaker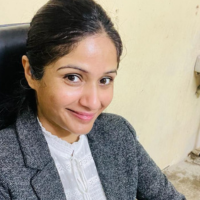 Dr Swati Pathak
Professor & HOD Pediatrics Nalanda Medical College, Patna
Dr. Swati Pathak is a distinguished medical professional with a remarkable academic background, holding MBBS, MS, and MCh (CVTS) degrees. Currently serving as an Assistant Professor in the Cardiovascular and Thoracic Surgery (CVTS) department at Banaras Hindu University (BHU) in Varanasi, Uttar Pradesh, she specializes in adult cardiac surgery encompassing valve replacement, coronary artery bypass grafting (CABG), congenital heart surgery, and vascular surgery.