Mental Health Support for Nurses: Coping with Burnout, Stress, and Trauma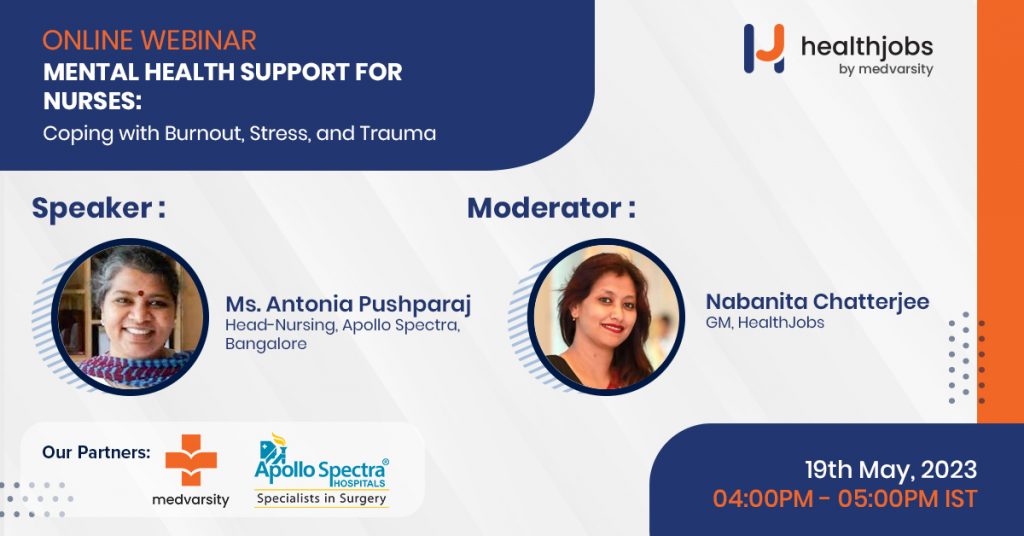 Nurses are frequently exposed to stressful and emotionally demanding situations that can lead to burnout, compassion fatigue, and other mental health challenges. Prioritizing mental health and well-being is crucial for nurses to maintain their health and resilience to provide high-quality patient care.
HealthJobs.One invites you to join an exclusive webinar on  Mental Health Support for Nurses: Coping with Burnout, Stress, and Trauma by Ms. Antonia Pushparaj – Head of Nursing, Apollo Spectra to learn more about the importance of taking care of your mental health.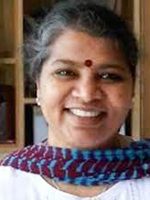 Head-Nursing, Apollo Spectra, Bangalore
An Adept Healthcare Leader with more than 27years of professional experience as an Administrator, Strategist in the domains of Healthcare Quality, Nursing Excellence, and Learning-Development. Principal Assessor-NABH (Quality Council of India) for Safe-I, PEH, Nursing Service Excellence Certification, Emergency Departments, Eye Hospitals Accreditation program for more than 14 years have assessed more than 350 hospitals across India. Having worked in JCI, NABH, ISO, NSE, and NABL accredited hospitals have shaped Accreditation processes requirements with respect to Standards implementation through Training and Process Optimization. Being a Passionate Trainer for over 20 years in healthcare has more than 1000 training programs to her credit in Hospitals, Schools, and Corporates across India. Her mastery in training is seen in the arena of Quality and accreditation, Implementation of International Patient Safety Goals, Nursing Service Excellence, Leadership in healthcare and nursing, well-being, life skills, Leadership, Resilience and Agility, team building, Effective Healthcare Communication. She is a sought-after Mentoring Coach for Adolescent Wellbeing and Conscious Parenting at schools. She is a Presenter in All India Radio and Doordarshan with more than 30 years of experience; appreciated highly for her presentations and public speaking skills on Music, Current Affairs, Literature, and topics with Societal Significance. A Freelance Writer and poetess having a special approach towards Environment, Human Rights, and Children. Served Healthcare Institutions as Nursing and Capacity Building Consultant. Volunteers as a Counsellor for NGOs. Social Healthpruener in Delinquent's Wellbeing at Prisons and Observational Homes in Karnataka. Founder of Jyothirgamayee, a registered NGO.