"Opportunities For Physiatrists: How To Start Your Practice?"
About the Session


"Did you know that India ranks second worldwide with the highest number of people needing rehabilitation at least once during their lifetime? However, rehabilitation centers in India are few and unequipped to meet this raging demand.




According to Glassdoor: the national average salary for a physiotherapist in India is Rs. 25547. In association with IAP, Medvarsity brings together a webinar series that chalks out a pathway to upskill and start your own practice. Come become your own boss today!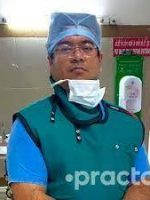 Consultant Physiatrist, Rehabilitation Physician and Director Of college of Physical Therapy & Occupational Therapy at NIMS University
Dr.Sharad kumar kedia is a Consultant Physiatrist, Rehabilitation Physician with 8 years of experience he has completed his bachelor's from S S Institute of Medical Sciences & Research Hospital, Master from Sambhu Nath Pandit Hospital, and DNB Physical Medicine and Rehabilitation Forum. He had practiced in AIIMS Jodhpur  and he is currently Director Of the college of Physical Therapy & Occupational Therapy at NIMS University