Case Based Discussion on Menorhagia
Menorrhagia is heavy or prolonged menstrual bleeding. It is a common problem in women. It is caused by hormone problems, problems with the uterus, or other health conditions. Menorrhagia is diagnosed with a pelvic exam, ultrasound, pap test, and sometimes a biopsy.
Treatment includes hormones, or other medicine, or procedures to treat the uterine lining or remove the uterus.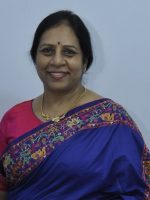 Gynecologist, Apollo Hospital
Dr. M. Krishna Kumari is a highly skilled Obstetrician and Gynecologist and is a Professor at Apollo Institute of Medical Sciences and Research. She received her MBBS from Andhra University in 1981 and her MD – Obstetrics & Gynaecology from the same institution in 1985 and was awarded the HM Lazarus Gold Medal. She brings an experience of more than 35 years in clinical practice and twenty years in teaching.
She specializes in managing high-risk obstetrics, advanced gynecology procedures,and fertility
regulation. She is passionate about academics and is an active member of FOGSI
(Federation of Obstetric & Gynecological Societies of India), ISOPARB (Indian Society of Perinatology and Reproductive Biology),IMS(Indian Menopausal Society) and served as President OGSH (Obstetrics & Gynaecological Society of Hyderabad), 2017-2019